Vriti Gujral, the 14-year-old Kathak dancer, recently had an exclusive interview with Global Child Prodigy under Prodigy Talks. The renowned Entrepreneur, Educationalist, and Humanitarian, Mr. Kavin Kumar Kandasamy, hosted the talk. He is also the Managing Director of Mangalam Educational Institutions. Mr. Kavin's institutions serve more than 7000 students every year.
Through This Interview, Let's Join Vriti Gujral in Her Inspiring Journey to Success.
Vriti, Please Tell Us a Little About This Performance That You Presented in Front of Us.
I created this kathak dance piece during the lockdown. It's a piece on Mahabharata-the Epic and describes the significant events that occurred in the Mahabharata. I was watching Mahabharata during the lockdown, and I heard this beautiful song. I was amazed and fascinated by its beats and rhythm. So, I decided to take Mahabharata's significant events and create a summary of it through my kathak dance performance.
Vriti, Please Tell us About the Kathak Dance Form.
Kathak is one of the eight major Indian classical dance forms. Kathak means expressing a story and related emotions through dance. It started in ancient times. People used it to represent mythical stories of our gods in temples. This era of kathak was known as 'Mandir Kaal.' Then, after many years, it was introduced in Mughals' court and was performed in front of the nobility and aristocracy.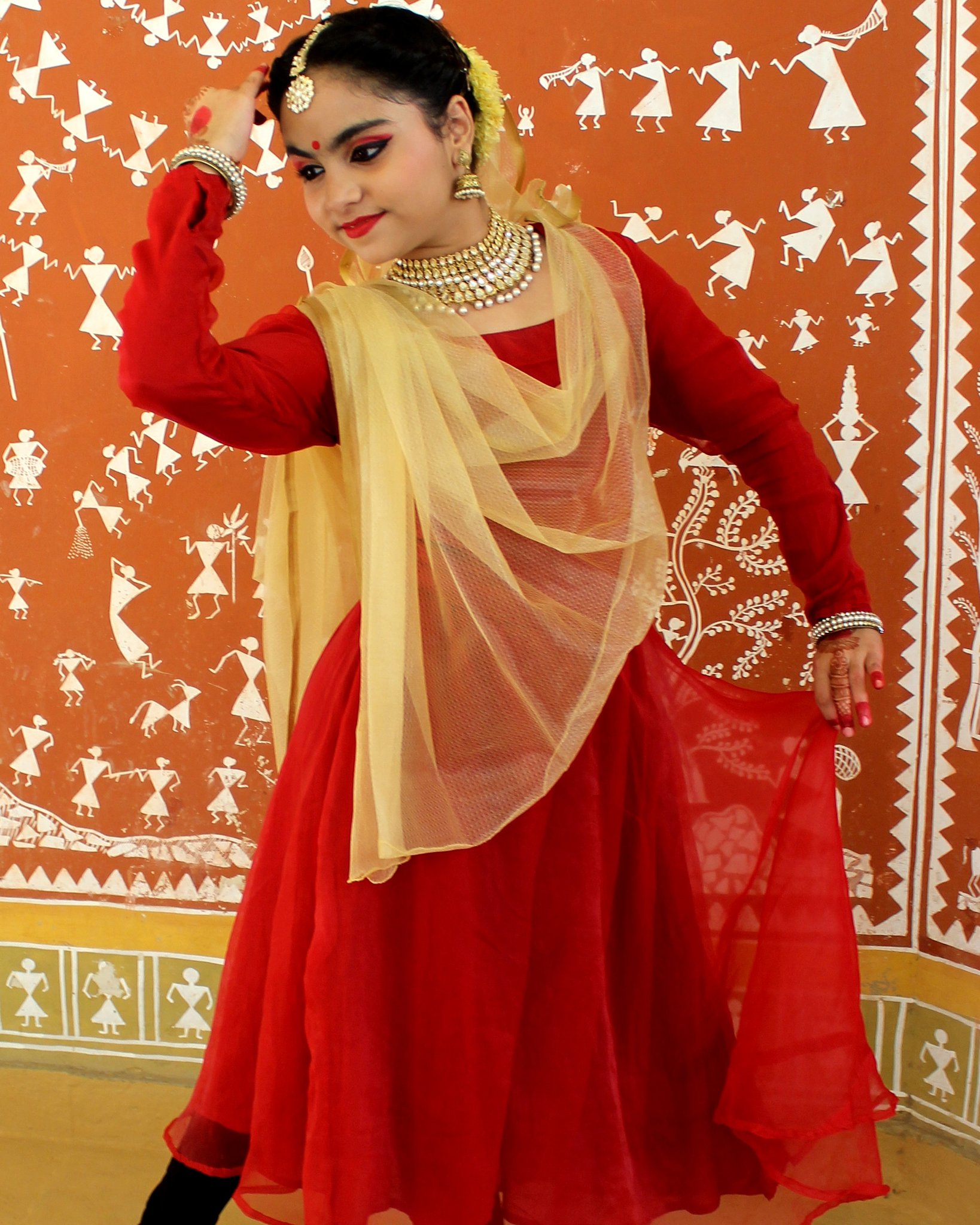 This era of kathak came to be known as the 'Darbaar Kaal.' We see now the modernized period of kathak, where dancers perform on the stage in front of the audience. It is called the 'Aadhunik Kaal' of kathak. Kathak has three gharanas, which is a term used to describe the state it originated from. The three gharanas are Lucknow, Jaipur, and Banaras. Currently, I'm in the Lucknow Gharana of kathak.
Where are you from, and when did the passion for kathak start for you?
I'm from New Delhi. My passion for kathak started when I was six years old. My mother always wanted me to explore myself in areas beyond academics as well. So, she took me to an institute where they gave three classes, which included Western, piano, and kathak. I liked the other courses, but I was fascinated by them when I saw dancers wearing ghungroo and performing their kathak performance.
The ghungroo also amazed me, and I was excited to wear them one day. That was precisely what started the spark in me. Then, when I started learning it, I became more passionate about it. I began exploring other aspects of kathak, such as the chakras, footwork, and abhinaya. Then, I just fell in love with kathak. It is a revered dance form, and it is our culture.
How Old Are You And Is Anybody In Your Family A Dancer?
I'm 14 years old. I'm in the 9th standard in Venkateshwar International School, Delhi. I'm the first dancer in my family.
Do You Have A Mentor?
Yes, I have a mentor. He is my guruji- 'Shri Barun Banerjee.' He has been teaching me kathak for the past eight years.
Are You Expressive In Nature? Do You Carry Your Dance In Your Daily Life?
I have been performing kathak for the past eight years. So, it is like a part of me now. It's not that when I practice kathak only then, I'm into dance, but I instead carry it to my everyday life. I have learned many things from Kathak dance, and it undoubtedly affects my life.
Tell Us About the CCRT Scholarship Which You Received From The Ministry of Culture?
I have received a CCRT( The Centre for Cultural Resources and Training) scholarship from the Indian Ministry of Culture. It's a scheme by the Indian government to uplift the Indian art room culture. Various artists from across the country apply for it, and later they are called for an interview, after which a handful of them are shortlisted. But it doesn't stop here. The selected candidates have to report every six months what they are learning new. After two years, they again do call us for a renewal interview. It's been two years since I got my scholarship, and my renewal interview was supposed to happen this year. But, due to the pandemic, I'm not sure whether it will happen or not.
What Do You Aim To Become?
I aim to be a classical dancer and a choreographer. I want to take the Kathak dance form to another level. We know that the young generation finds it difficult to relate to kathak and think it's boring. I want to remove all these stereotypes and make sure that they relate to it as it's our heritage, and we have to take it ahead. Also, I plan to perform on the international level someday.
Do You Pursue Any Other Dance Forms?
I focus on kathak, but sometimes I do other dance forms like Western or folk dance. But, kathak is always my main focus and priority.
At Some Point of Training, You Might Reach A Stage Where Nobody Can Teach You Anymore and You Have To Self-Evolve?
I believe that this point can never come because you learn from everything. Knowing, in my opinion, can never stop. Even if we don't have a mentor, we can learn from nature. I believe that nature is everyone's mentor.
Do You Perform Daily or Ever Take-Off for Your Body to Rest?
On average, I practice 2-3 hours daily. There are many different aspects of kathak, so even if I have an injury or can't dance, I can sit and practice my hand movements by giving a taal. There are many ways to do kathak. So taking-off a day rarely happens.
Do You Do Any Exercise Before Dancing?
Before we start doing our kathak practice, we do some basic exercises such as stretching to warm-up our body.
What Does the Global Child Prodigy Award Mean To You?
Sir, it's very precious to me because it's my first international achievement. I'm delighted and proud to get it. And, after getting this award, I have received much appreciation from people.
Anything You Want to Tell Other Kathak Aspirants?
I want to say that everyone is unique and has an exceptional talent. We need to find it. And when we find it, we need to pursue it and give our life a mission and a passion. So, please see your talent and follow it. Also, during the pandemic, stay home, stay safe, and stay happy.
Thank you, Vriti Gujral. You are a talented girl. We wish you all the best for your future. May you get all the success in life.
If you know someone close to you who is exceptionally talented, make sure to click here.
Also Read : Exclusive Interview Of The Author Prodigy With Global Child Prodigy – Aarit Gupta
Creative Content Writer at GCPA | Four Years of Experience in Content Writing
Feel free to contact me at Team@gcpawards.com