Born in 1993, Quebec, Canada, Maude Charron is a Canadian weightlifter who competes in the 63/64 kg category. Her journey of reaching the Olympics is very unique. As a child, Charron was never quite interested in weightlifting but instead was a gifted young gymnast. As a teenager, she began attending the École de Cirque de Québec, a circus school to train full-time as an acrobat.
However, after suffering from countless dislocated shoulders, splints, sprains and concussions, she took the tough decision of leaving circus school at the age of 19 to study business management at the University of Quebec. It was a friend who recommended that she join Crossfit and so she did. The owner of the Crossfit gym – Benjamin Jean saw her performance during the deadlift workout and immediately recognized her potential. He began giving her personal training sessions and within two years, he enrolled her in competitions, writes CrossFit Games.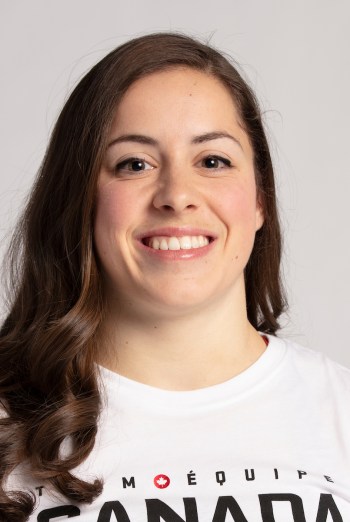 She entered her first weightlifting competition in 2015 and competed at her first nationals five months later. She secured her first big win at the FISU World Championships in 2016 where she won a bronze medal. In 2017 she won a bronze at the Pan American Championships and silver at the World Championship. She won gold medals at the 2018 FISU World Championships, 2018 Commonwealth Games and the 2021 Pan American Championships. She is currently the reigning champion in the women's 64kg division after breaking the Commonwealth Games record in 2018.
Charron made her Olympic debut at the 2020 Tokyo Olympics and won gold within 6 years of her first weightlifting competition. She also hopes to serve as a role model for the next generation of female weightlifters so that they are never ashamed of their bodies and "lift weights and train and be grateful about their body that was given to them.", according to CBC. Her unique journey to the Olympic stage and spectacular achievements in such a short time span is a testament to her hard work, resilience and determination that will encourage young girls and boys everywhere to believe that it is never too late to accomplish greatness.
#GCPWishesMaudeCharron #GCPAWishesOlympians
Team Global Child Prodigy Congratulates Maude Charron for winning Gold in the 2020 Tokyo Olympics. This will inspire millions of people worldwide, including children who aspire to be like her.
We are on a mission to recognize Child prodigies across the world in all domains. Do let us know in the comment section if you know any such kid, or you can directly apply For Global Child Prodigy Award 2021 from the link below.
If you know someone close to you who deserves to be on the top 100 Child Prodigies list, make sure to register at
Creative content developer at Global Child Prodigy Awards | Feel free to contact me at team@gcpawards.com