Shubham Jaglan, the 16-year-old golfer, recently had an exclusive interview with Global Child Prodigy under Prodigy Talks. The renowned Entrepreneur, Educationalist, and Humanitarian, Mr. Kavin Kumar Kandasamy, hosted the talk. He is also the Managing Director of Mangalam Educational Institutions. Mr. Kavin's institutions serve more than 7000 students every year.
Let's get to know the inspiring story behind Shubham Jaglan's success in this interview.
Hello Shubham, How Are You? Tell Us A Little About Yourself
I'm good, sir. My name is Shubham Jaglan. I'm 16 years old. I belong to a village near Panipat, and most of my family members are into the sport- wrestling. I started golf when I was six years old. There was an academy near my village, and its idea was to introduce the sport at the grassroots level. So, my grandfather motivated me to learn the sport, and that's how my golf journey started.
Tell us more about your initial golf training.
The academy near my village shut down in about two months. Initially, the fee wasn't much, but later on, everyone in my town realized how expensive the golf sport was, so they backed out. I was part of the bandwagon, but the academy founder, Mr. Singh, had a talk with my father and told him that I had talent and should continue the sport.
Image source:Google
He also gave me a few contacts so that I could find golf training and facilities. All the coaches left after the academy got shut down, so I had to teach myself for about six months. YouTube videos helped me in the process. I did all I could do at my level because the nearest golf course was 2 hours away.
Did any club support you back then?
Even today, I don't have anybody who's a golfer from my village or nearby villages. So we created a make-shift golf course on our own. I also started playing tournaments soon after that. The golf foundation, which I'm still a part of, had a coach who found out about me, and then we had a chat.
With the foundation's support, I shifted from my village to Delhi to get better facilities, education, and training. It was a difficult decision because, at that time, we didn't have any guarantee of success. So, I'm grateful for having supportive parents who trusted me and moved with me to an entirely new city. I believe that because of that decision I could get better in the sport.
Tell us how you and your father created the make-shift golf course.
We had a small backyard at my village home, so we took big steel pipes and cut holes out of them. Then, we had put three spots in the backyard and also recreated the putting green. I had a college near my house where they had about 100 yards of grass, which I used to practice.
Tell us how your family motivated you in your journey.
My mom is a housewife, and my dad was a farmer before we shifted to Delhi. Then, he left farming. My family encouraged and supported me in the process. My dad still accompanies me in various tournaments and events.
How does your family cope up with all the attention that you get because of your sport?
I feel lucky to be surrounded by great people. When I shifted to Delhi, the golf foundation head, Mr. Amit Luthra, has been my mentor throughout my journey. He helped me stay humble and made sure that the attention doesn't get to my head. My school has also been enormous support; they helped me catch up after my tournaments. So, I can say that I've got supportive parents and am surrounded by some fantastic people who help me in my journey.
Who's your sporting academy; do you have an agent?
The foundation handles all my stuff. I practice at the Delhi Golf Club. The foundation got me admission to an excellent school; they provided me with the facilities and training. They handle everything. Whenever I travel, that's all for me. So, my dad and I look after all that.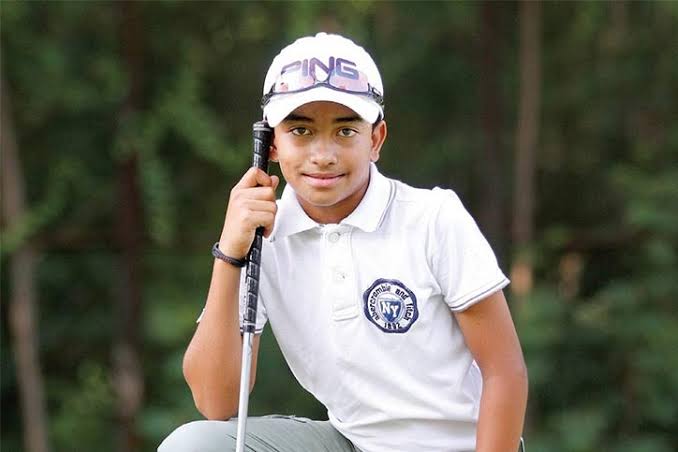 Image source:Google
Tell us about your studies.
I'm looking forward to joining college next year. I'm going to play Division-1 golf in the United States of America for the University of South Florida. My coach helped me in the process. All my college requirements were met at the USF. So, we made a connection there.
Do you know about any other golfer from India who's excelling in the sport?
A lot of golfers are doing well. Anirban Lahiri is my role model. Many golfers from India are doing excellent in the sport. I've played with them, and to see them succeed is motivating.
Shubham Jaglan, Do you have a vision for yourself?
Firstly, the primary goal right now is to finish college and do good there. There's a myth that not many Indian golfers do well in the American college system; my goal is to change this perception. Hopefully, I can pave the way for other talented golfers who decide to skip this option based on what they hear. The ultimate goal is to be a professional player and play on the PGA Tour.
Any golfer you look up to?
Anirban Lahiri is my role model. I've been lucky enough to get to know him better. He lives in Florida as well. I'm looking forward to being in touch with him more. He inspires me as he's one Indian who has gone to play on the PGA Tour. Apart from him, Tiger Woods is everyone's favorite. His journey inspires me a lot.
How does your being recognized by the Global Child Prodigy Awards make you feel?
Honestly, I don't think of myself as a prodigy. I have many passions and things I'm interested in, and I believe that I live life like any other 16-year-old child.
Is there any other prodigy you have spoken to?
I had a great time at the GCP Awards and got to know a lot of other people. It was enriching to know about everyone's journey and the things they have achieved. I've been in touch with some of them.
Any message for your audience?
I'd love to see people learning new things; kids reading more. I think people should spend more time with their family being away from their phones.
Thank you, Shubham Jaglan. You are a wonderful person. We wish you all the best for your future. May you get all the success in life.
If you know someone close to you who deserves to be in the TOP 100 Child Prodigies of the world, make sure to click here.
Also Read : From a Son of a Milkman to Junior Golf Champion| Shubham Jaglan
Content Writer at GCPA | Three Years of Experience in Content Writing along with SEO skills
Feel free to contact me at Team@gcpawards.com