Sometimes some stories amaze us, and one of them is the story of five-year-old Presha Khemani. The young girl set a world record by recalling 150 countries along with the names of their capitals. Moreover, she also identified the flags of these countries. The most amazing thing is that she did all this in just 4 minutes and 17 seconds.
Youngest Kid To Identify Flag & Country Names Within Minimum Time
As per indiatimes.com, Presha has become the 'Youngest Kid to Identify Flags and Country Names' within the least time. Her family hails from Ujjain in Madhya Pradesh. She has been living in Pune along with her family for the last six years. At present, Presha is a student of upper KG at Sanskriti school in Bhukum. Bhukum is a village in the Pune District of Maharashtra.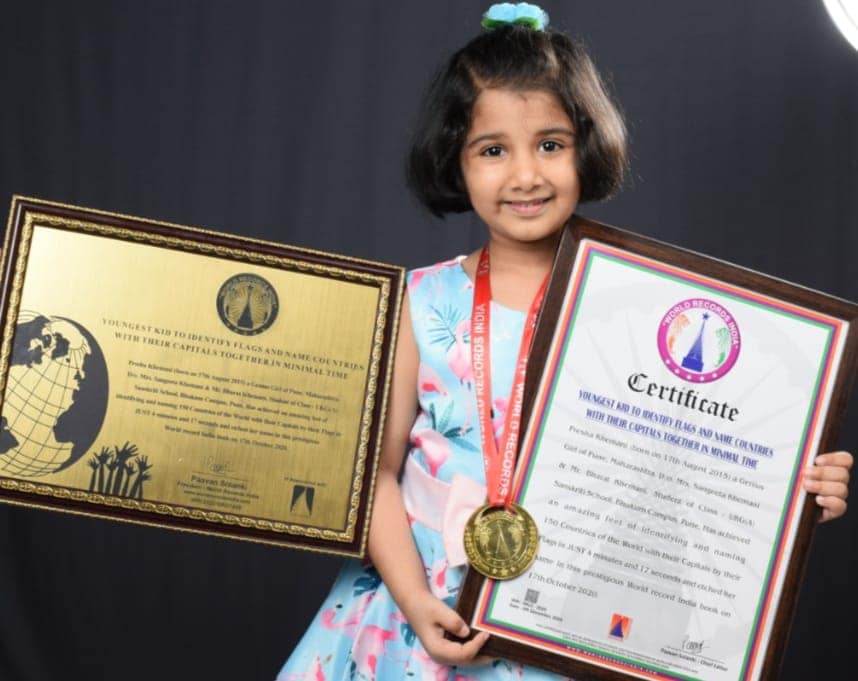 Image source: Google
Presha's father, Bharat Khemani, is a chartered accountant in Pune. According to him, Presha's parents realized that she had exceptional intelligence. And as a result, she won a gold medal for identifying 150 countries along with their capitals by just looking at their flags in just 4.17 minutes.
How Did Presha Khemani Develop An Interest In Geography?
All this started when Presha received a world book as a gift. Her mother, Sangeeta Khemani, also has an interest in Geography. She says that Presha was having an interest in geography and global studies since childhood.
Image source: Google
Her family friends once gifted Presha a world book during the lockdown. She used to ask her mother the names of the countries after seeing the flags. Then, whenever she was asked the country's name by pointing to the flag, she could answer it immediately without forgetting. It was surprising for her parents to see her extraordinary intelligence. She was able to tell the countries & their capitals after seeing the flag.
Presha's Next Goals
This brilliant girl's next goal is to learn currencies, languages, and Prime Ministers & Presidents of different nations. It is evident that she would definitely achieve her goals.
The Global Child Prodigy congratulates this little girl for her outstanding accomplishments at such a young age. We wish her a bright future ahead.
Disclaimer: All the information provided above is collected from indiatimes.com. 
Also Read : The Youngest Ever Professional Go Player – Sumire Nakamura
Creative Content Writer at GCPA | Four Years of Experience in Content Writing
Feel free to contact me at Team@gcpawards.com