"Talent hits a target no one else can hit. Genius hits a target no one else can see." – Arthur Schopenhauer.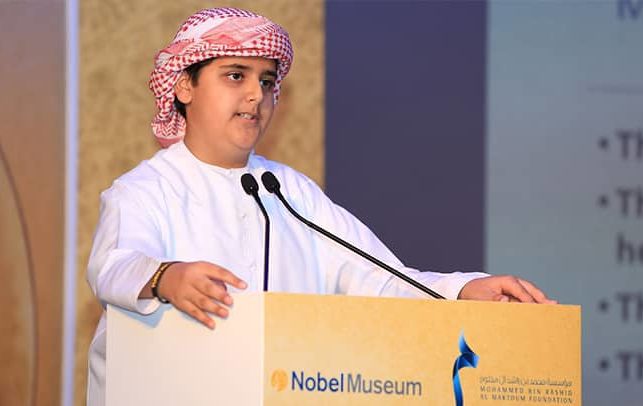 Nature has made some extraordinary people with exceptional abilities that can amaze people all around the globe. The child prodigy, Adeeb Alblooshi, is one such person. At only 15 years of age, Adeeb is one of the most recognized inventors of the UAE. He has already applied for seven scientific patents. He is now the CEO of his own company. According to Adeeb," It is the will to help others -and not profit or fame-that drives him to succeed."
How The Young Scientist Adeeb Got Inspired?
Adeeb's father, who used a prosthetic leg, first inspired Adeeb to develop a medical apparatus. His father could not swim in the water because the prosthetic leg his father had was not waterproof. So he decided to upgrade his father's prosthetic leg. "My mum influenced me never to give up," he says. Adeeb noticed that his mother is having difficulties while cleaning the couch. So, he made a mini robot for her mom that resembles a broom that can vibrate and consists of a vibrating motor, batteries, and feathers.
His parents are very proud of him. Adeeb's mother said," I am really proud of him and he always surprises me with his behavior and ideas. He is a gift from God to us." He is now a member of the Arab Robotics Association and is considered one of the world's youngest inventors. 
Achievements of The Child Prodigy |Adeeb Alblooshi
The child prodigy, Adeeb has got attention from millions of people because of his incredible inventions at such a young age. Sheikh Hamdan bin Mohammad, the Crown prince of Dubai, was very impressed by the young scientist and organized a scientific tour to give him more self-confidence. Adeeb has more than 100 certificates and awards to his name.
Adeeb is the head of the  Arab Youth Council for Integrated Development's young inventors and innovators committee. He has been named one of the 100 most influential Arabs under 40 and included among Dubai's Top 100 most influential figures. Alblooshi also has to credit eleven NASA certificates and two gold medals. He was recognized as the world's smartest teen in 2018.
Also Read: The Youngest professional Illusionists in The World | Kadan Bart Rockett and Brooklyn Rockett
Winner of Global Child Prodigy Awards 2020
The Global Child Prodigy Awards is the first and only organization to recognize talents from various countries and backgrounds, having extreme competency in their field of interest such as painting, modeling, writing, entrepreneurship, martial art, music, social work, etc.
Adeeb Alblooshi received the Global Child Prodigy award in January 2020 for his inventions. He was also listed among the Top 100 Child Prodigies of theyear.
How Adeeb Alblooshi sees himself in the future
"I want to change the world. There are too many people in need of assistance and all I think of is,' how can I be of help?", Adeeb has said all he wants to do is help people in discomfort. His will to help others has made him a successful young scientist. The child scientist Adeeb inspires us to help people in need; we can do so in any way.
If you know someone close to you who deserves to be on the top 100 Child Prodigies list, make sure to click here.