If you can't outplay them, outwork them.

-Ben Hogan
Born in 1994 in Ohio, USA, Lee Kiefer is an American foil fencer. A daughter of a neurosurgeon and psychiatrist, Kiefer had always planned to become a doctor. She began fencing at the age of 6 alongside her 2 siblings who were all taught by their father, the former fencing captain at the Duke University. Quickly, fencing became a family activity and the Kiefer siblings all went on to represent the USA at competitions. Her older sister, Alexandra Kiefer, is a former Harvard University foil fencer and 2011 NCAA champion, and now is a doctor by profession. Her younger brother, Axel, was the 2015 USA Fencing National Championships Junior Gold Medalist, and who also attended and fenced for the University of Notre Dame, coming in second in the 2019 NCAA Championship, according to Wikipedia. Safe to say, being an all-round high-achiever runs in Kiefer's blood!
Her medal record is beyond impressive. Since beginning her competitive career in 2010, she is a four-time NCAA champion, ten-time team Pan American champion, nine-time individual Pan American champion, 2018 team world champion, three-time Olympian, and 2021 individual Olympic champion. She is the first fencer ever to win three straight individuals Pan American Games titles, in any weapon, as well as the first fencer ever to win nine individual Pan American championship titles, in any weapon, according to the International Olympic Committee website. 
She's married to US Fencer and 2016 Olympic bronze medallist in team foil fencing – Gerek Meinhardt. Not only are they both Olympic fencers, but they are also both medical students at the same university! During the Covid-19 pandemic, she and her husband made a fencing strip in their basement to continue training in the adverse circumstances, both determined to encourage the other and not let their skills deteriorate. 
After completing a bachelor's degree in science at the University of Notre Dame, she began studying medicine in 2017 at the University of Kentucky. She briefly considered giving fencing up for a career in medicine but earning the International Federation d'Escrime (FIE) world number one ranking in March 2017 inspired her to continue competing and studying simultaneously, writes the International Fencing Federation's website.
Her historic golden victory at the 2020 Tokyo Olympic games makes her the first U.S man or woman to win a gold medal in individual foil in history. She is also the first female foil fencer representing the United States of America to be ranked number one by the FIE. A woman of brilliant skill, willpower and dedication, Lee Kiefer is a perfect example for all those who believe that academics and sports cannot be balanced.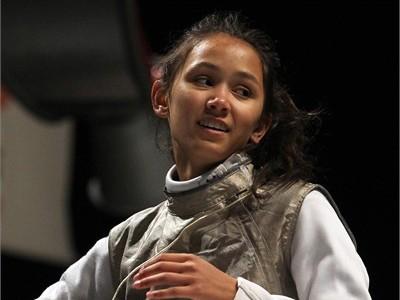 #GCPWishesLeeKiefer #GCPAWishesOlympians
Team Global Child Prodigy Congratulates Lee Kiefer for winning Gold in the 2020 Tokyo Olympics. This will inspire millions of people worldwide, including children who aspire to be like her.
We are on a mission to recognize Child prodigies across the world in all domains. Do let us know in the comment section if you know any such kid, or you can directly apply For Global Child Prodigy Award 2021 from the link below.
If you know someone close to you who deserves to be on the top 100 Child Prodigies list, make sure to register at –
Content Creator at Global Child Prodigy Awards | Feel free to contact me at team@gcpawards.com