National Girl Child Day is celebrated every year in India on January 24. This day aims to raise awareness among people about exploitation, equality, discrimination faced by the girls in society. It is celebrated to provide support and new opportunities to the girls in the country. Indian National Girl Child Day was first initiated in 2008 by the Ministry of Women and Child Development. Infact, the most essential motive behind celebrating this day is to spread awareness about girl child's rights and increase awareness on the importance of girl education and their health and nutrition.
On this particular occasion of National Girl Child Day, we are here with five girl prodigies from India who made their nation proud at a very young age. All these talented girls have won the Global Child Prodigy Award 2020 for their incredible talents.
1. Anantya Anand
Born on July 2, 2009, Anantya Anand is popularly known online as MyMissAnand. She is a young Indian YouTuber & has over 9 million subscribers on her YouTube channel. Moreover, she has become the youngest Indian YouTuber to cross the one million subscriber mark. Although Anantya began her career when she was five, her content and skills won millions of viewers' hearts.
2. Pooja Bishnoi
Born in a small village in Jodhpur, Pooja Bishnoi follows the path of discipline and determination that even some adults lack. She has registered a world-record by covering a distance of 3 km in just 12.5 minutes in the under-10 age category. Pooja has also become Asia's first-ever girl to have six-pack abs at such a young age. The child prodigy is now preparing to compete at the Youth Olympics that will be held in 2024. Moreover, the little girl aims to win a gold medal for the country.
3. Vriti Gujral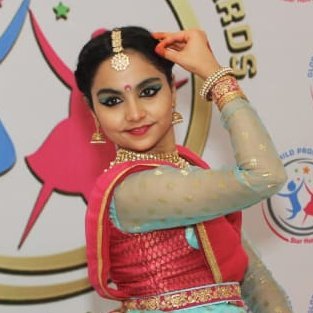 Vriti Gujral is a young talent who chose Indian classical art forms to keep our nation's culture alive. In this modernized era, the Indian culture is losing its traditions, but Vriti wants to spread it globally. At such a young age, this incredible dancer has infact performed in various parts of India and has blown away people's minds through her classical dance skills. Moreover, Vriti has been the finalist in Kathak Genre Dance Competition and aims to build her career in Kathak's field.
4. Licipriya Kangujam
A 9-year-old climate activist, Licipriya Kangujam, is known as Greta Thunberg of India. She has recently made a device named SUKIFU-2 that converts air into the water using solar energy. Moreover, she has also got recognition as one of the most influential young climate activists globally by the United Nations. The young girl has made various other accomplishments & is doing great at her young age.
5. Aswatha Biju 
A 13-year-old girl, Aswatha Biju, has become the youngest paleontologist in India. She developed an interest in collecting shells when she was just two. Aswatha also has a fair amount of shell collections. This young girl from Chennai, Tamil Nadu, is truly an inspiration for the youth. She aims to create awareness about paleontology at such a young age as people are not aware of it in India.
The Global Child Prodigy congratulates all these child prodigies for their accomplishments. Moreover, best wishes to all the girls on this special occasion of National Girl Child Day!
Also Read : 12 Child Prodigies Who Are Making The World A Better Place: International Children's Day 2020
Graphic Designer at GCPA | Three Years of Experience in Graphic & Product/Industrial Design
Feel free to contact me at Team@gcpawards.com