Most of the world's population consists of children and young people. In order to achieve a peaceful world, the essential thing is to respect the rights of children and youngsters. Following Mahatma Gandhi 's path, the Indian activist Mr. Kailash Satyarthi has prosecuted a peaceful struggle to stop the exploitation of children who were working as labor instead of attending school. On this special occasion of his birthday, let's have an insight into his story.
Early Life Of Mr. Kailash Satyarthi
Satyarthi Ji was born on January 11, 1954, in Vidisha, Madhya Pradesh, India. He has always questioned the wrong and unjust since his childhood. At the age of five, he was deeply disturbed when he saw a small boy working with his father polishing shoes at the school's gate. Satyarthi Ji could not understand why all the children were not the same. Soon he understood the stark contrast between his life and the life of the cobbler's son. 
On the one hand, Kailash Satyarthi was in his new school uniform and shoes. On the other hand, there was the other child with no dreams in his eyes. Satyarthi Ji was very unhappy about whatever he had seen. After going to the classroom, he asked his teacher about that small boy but didn't get the right answer. He was not satisfied, and several questions kept coming to his mind.
Kailash Satyarthi ji's Works
After completing his electrical engineering degree, Kailash Satyarthi Ji started working as a teacher in the area. He left teaching in 1980 and founded the organization named 'Bachpan Bachao Andolan' (Save Childhood Movement), which has saved thousands of children from slave-like conditions. The organization has liberated over 83,000 children by developing a successful education model and reintegration into society. Moreover, he has been the architect of the single largest civil society network as a global campaigner. The community is for the welfare of most exploited children. It is the Global March Against Child Labour, an international coalition of children's rights organizations, trade unions, and teachers' unions. 
He has also authored several booklets and articles on social concerns and human rights issues. Kailash Ji set up three educational and rehabilitation centers for the child laborers, and as a result, various victims became leaders and liberators. His life has been full of risks; he has derived strength from all the risks that came in his way.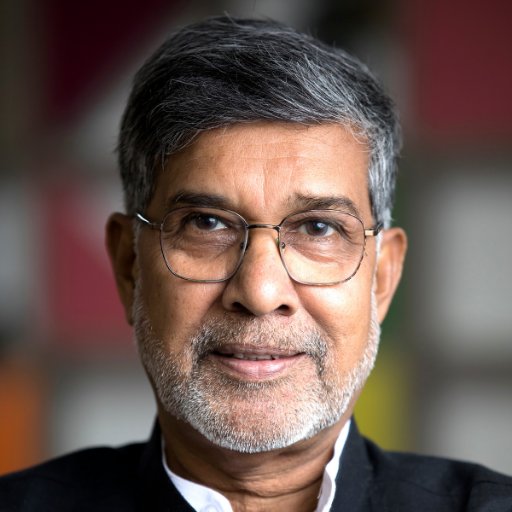 Nobel Peace Laureate 2014
In 2014, Mr. Kailash Satyarthi was awarded the Nobel Peace Prize for his "struggle against the exploitation of children & young people and for the right of all children to education".  Moreover, his incredible efforts to end child labor and violence got international support in September 2015. It is because he was successful in getting child welfare-related clauses that were there in the  SDGs (Sustainable Development Goals) of the United Nations.
Connected With Global Child Prodigy Awards
The nobel laureate, Mr. Kailash Satyarthi Ji, was on aomg the prominent personalities present at the Global Child Prodigy Awards 2020 ceremony. It is an honor for GCPA to have such a great man with us. He said at the event "Recognize, Respect, and Reward the interest & talent of your children. Never impost expectations and ambitions. Instruct on everything and impede their freedom to question."
The Global Child Prodigy Awards wishes Mr. Satyarthi Ji, the Nobel laureate, a very Happy Birthday. Also, we would like to thank you for being a part of GCPA!
Also Read: The Child Prodigy Known As 'Human Computer' – Shakuntala Devi
Creative Content Writer at GCPA | Four Years of Experience in Content Writing
Feel free to contact me at Team@gcpawards.com