Josiah Alexander Sila, who is professionally known as Joey Alexander, is an Indonesian jazz pianist. Born on 25 June 2003, he is a self-taught child prodigy of his time. The young boy became the first-ever Indonesian musician to chart on Billboard 200. It was the time when his album 'My Favorite Things' debuted at number 174 and then reached 59.
Joey learned to play jazz by himself at age six just by listening to his father's classic jazz albums. He was the winner of the Grand Prix at the 2013 Master-Jam Fest when he was nine-years-old.
Early Life
Born in Denpasar, Bali, Indonesia, Joey Alexander is the son of Denny Sila and Farah Leonora Urbach. His father was an amateur musician, and his parents were fans of jazz, particularly Louis Armstrong. He taught himself jazz by listening to his father's classic albums. By age six, he had taught himself to play piano using a mini electric keyboard given by his father. The former prodigy later said that learning the instrument came naturally to him. He says that his ability is "a gift from God". Joey particularly admires Clifford Brown, Wynton Marsalis, Miles Davis, Lee Morgan, Brad Mehldau, Horace Silver, and McCoy Tyner.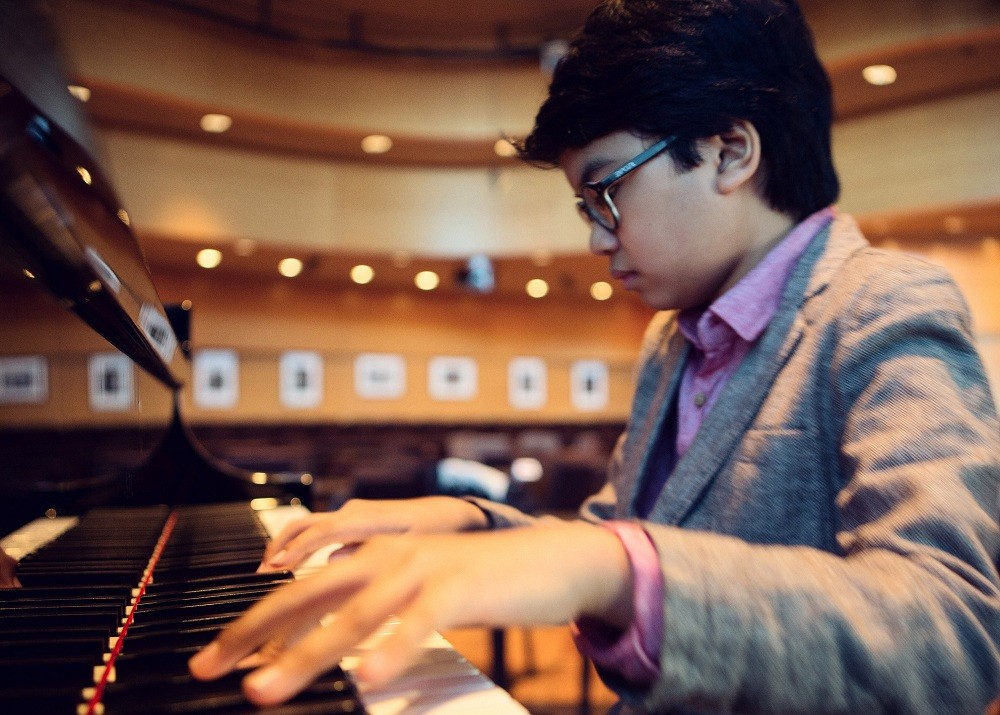 As there was no availability of jazz education in his home town, Alexander used to participate in jam sessions in Bali and Jakarta. His family moved to this place so Joey could live near Indonesia's top jazz musicians. At the age of eight, he played for Herbie Hancock when Herbie was visiting Jakarta as a UNESCO goodwill ambassador. When joy was nine, he won the Grand Prix at the Master-Jam Fest 2013. It is an all-ages jazz competition in Odessa, Ukraine. There were 43 musicians from 17 nations in the competition. He moved to New York City with his family to pursue a career in music.
Career – Joey Alexander
After getting to know about Alexander's incredible talent, Marsalis praised him as "my hero" on his Facebook page. Moreover, he invited Joey to appear at his organization's gala in May 2014. The young jazz pianist, Joey, was just 10-years-old at that time. It was marking Joey Alexander's United States debut. He got amazingly positive reviews for his performance. The New York Times said about him that he became an "overnight sensation" after this outstanding performance.
It was the time when Joey's career took a new turn. After that, Jeanne Moutoussamy-Ashe, wife of the famous tennis player Arthur Ashe, invited him to perform at the Arthur Ashe Learning Center gala. He played there for a huge crowd, including former U.S. President Bill Clinton. He also gave a performance at A Great Night in Harlem at the Apollo Theater. The performance was honoring Herbie Hancock. Moreover, Joey gave amazing concert performances in 2014 at the International Java Jazz Festival and Copenhagen Jazz Festival.
Achievements
Joey Alexander was a runner-up for the Grammy Awards Best Jazz Instrumental Album through his nomination (for My Favorite Things) in February 2016. He gave a live performance at the Premiere Ceremony, which is the pre-telecast ceremony at the Grammy Awards.
In September 2016, Joey's second album, Countdown, was released. The album was named after the John Coltrane track. Moreover, on 28 April 2017, he made his debut appearance at the Heritage Festival and New Orleans Jazz. The release of Alexander's third album was seen in September 2017. It was a collection of seven songs by Thelonious Monk. Moreover, Eclipse, his fourth album, was released on 5 May 2018.
This young Jazz pianist is amazingly great & we believe that he will achieve greater heights in the future.
Also Read: Fu Mingxia – an olympic gold medalist & former prodigy
Creative Content Writer at GCPA | Four Years of Experience in Content Writing
Feel free to contact me at Team@gcpawards.com