"One thing about a skater, they never quit, so a skater to sum it up is awesome." – Lil Wayne
Inspiration usually comes from older ones. However, sometimes, the young ones are inspiring enough to motivate people. An eleven-year-old skateboarder, Aliqqa Noverry, was one of the six athletes representing Indonesia in the Asian Games 2018. She was the youngest to compete.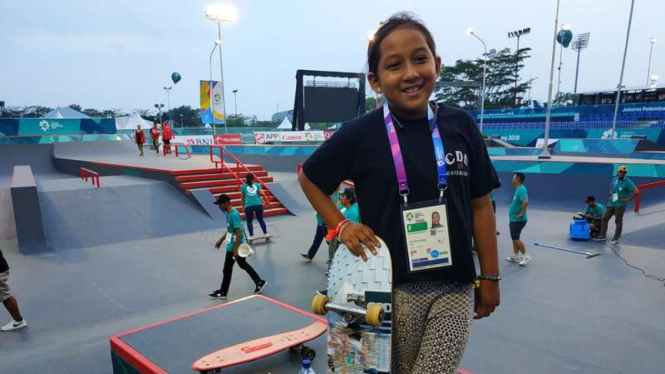 A Growing Champion
Aliqqa was just two when she was introduced to the skateboard. With generous support from her family and six months of training, she decided to participate in her first-ever skate race. Aliqqa placed third in the under ten category for a Cup tournament in 2016.
"I like all the tricks and going so fast – that's the fun part."
Aliqqa Noverry's Rigourous Practice
She practiced regularly for national-level tournaments and soon secured selection for the Asian Games in 2018. Under the guidance of her coach, Yudi Toengkagie, Aliqqa was able to perform her best.
"My family supports me but they're also very surprised that I'm the youngest athlete here."
Global Child Prodigy Awardee | Aliqqa Noverry
In 2020, Aliqqa Noverry has been awarded the Global Child Prodigy Award for her contribution to skating moreover she has been listed under the Top 100 prodigies of the world.
Aliqqa's love for the skateboard is only growing day by day and one day, she hopes to be as good as her idol, Sky Brown.
We believe that she is the epitome of the best as she is all about speed. If you are reading this, you must take inspiration from this young pioneer chasing her dreams.
If you know someone close to you who deserves to be in the Top 100 Prodigies list, make sure to click here.
Also Read: Meet 11-years-old Youtuber who is earning in Lakhs| Anantya Anand