Set your goals high, and don't stop till you get there.

-Bo Jackson
Sergeant Hilidyn Diaz is a Filipino weightlifter and member of the country's air force. She grew up wanting to be a banker and practicing various different sports like basketball, volleyball and weightlifting which she learned from her cousin from the age of 11. She began her competitive career with the 2008 Summer Olympics at age 17.
While she did not win a medal, her performance was highly appreciated by fellow weightlifters. She became the first Filipina weightlifter to compete in two consecutive Olympics and served as the Philippines' flag bearer at the 2012 Olympics. 4 years later, at the 2016 Rio Olympics, she won the Philippines' first Olympic medal in 20 years and became the first-ever Filipina to win an Olympic medal, in a sport typically dominated by men; writes the Tatler. In 2018, she won gold at the Asian Games in Indonesia to deliver the Philippines' first gold in the 2018 games, as well as the first Filipino weightlifter of any gender to win a gold medal in the Asian Games, says Wikipedia.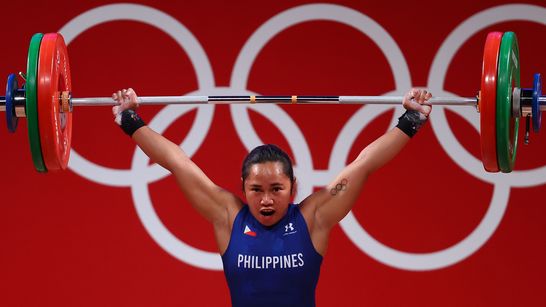 But Hidilyn Diaz is much more than a history-making athlete. She is also been a member of the Philippines' air force since 2013 and currently ranks as 'Sergeant'. In 2017 she opened a weightlifting gym in Zamboanga, Philippines as her main goal has always been "to help out kids in my hometown and realize their dream in weightlifting. This sport could change their lives and hopefully they could become just like me in the future." she told the International Olympic Committee.
Her historic, trailblazing and monumental journey has had its fair share of obstacles starting with her poor performance at the 2012 Olympics that lead her to face public scrutiny and severely affected her stress levels, and caused performance anxiety. A knee injury she suffered before the 2016 Olympics deeply affected her mental strength and confidence, making her feel like "a loser, a failure, that I was empty and with no purpose or direction in my life", she told the Tatler. Most recently, she has faced financial struggles due to the lack of funds for her gruesome Olympic training. In addition, the Covid-19 pandemic left Diaz stranded in Malaysia for months on end, forcing her to train using creative solutions while being away from her family and coach. Her determination and dedication to not let the lockdown affect her performance at the upcoming Olympics drove her to build her own gym, training with makeshift equipment she created using jugs of water and bamboo sticks.
Despite such emotional and mental obstacles, Diaz has continued to overcome her challenges and come out on top to win a gold at the 2020 Tokyo Olympics in the 55kg weight category. This marks her and her country's first-ever Olympic gold in 97-years since their first appearance at the Olympic games in 1924. In addition, Diaz set an Olympic world record of lifting a combined weight of 224kgs.
A woman of resilience, talent, dedication and passion, Hidilyn Diaz is a symbol of women empowerment and hard work. Her groundbreaking journey will serve as an inspiration to all kinds of people around the world and exemplify the philosophy to keep believing in themselves and never back down.
#GCPWishesHidilynDiaz #GCPAWishesOlympians
Team Global Child Prodigy Congratulates Hidilyn Diaz for winning Gold in the 2020 Tokyo Olympics. This will inspire millions of people worldwide, including children who aspire to be like her.
We are on a mission to recognize Child prodigies across the world in all domains. Do let us know in the comment section if you know any such kid, or you can directly apply For Global Child Prodigy Award 2021 from the link below.
If you know someone close to you who deserves to be on the top 100 Child Prodigies list, make sure to register at –
Content Creator at Global Child Prodigy Awards | Feel free to contact me at team@gcpawards.com