The International Author and child activist Stacey Fru recently had an interview with Global Child Prodigy under Prodigy Talks. The talk was hosted by Mr. Kavin Kumar Kandasamy, a renowned Entrepreneur, Educationalist, and Humanitarian. He is also the Managing Director of Mangalam Educational Institutions. Mr. Kavin's institutions serve more than 7,000 students every year.
Let's get to know the motivational story behind Stacey Fru's success in this interview.
What is The Role of Your Family in Your Success?
I am a 13-year-old Award-Winning Author from South-Africa. Also, I am an activist, the founder of the Stacey Fru Foundation, and a public speaker. I write poems and play guitar sometimes. And, of course, like every other child, I go to school. Currently, I am an eighth-grader in Sacred Heart College, Johannesburg.
"Without my family support, I would not have been able to grow as far as I am now."
My parents are from Cameroon. They support me a lot and are the backbone of my foundation, as well as my work. My parents are the ones who run everything behind the scenes. My siblings also play a massive role in who I am. I have three other siblings who are frequently with me at home. When it comes to my writing, I always ask them to advise. I ask them what would you find more interesting. So, they do play a role in what happens at work as well as in my community.
"I always say that you can not grow far without having a support system. It is always great to have a few people who are constantly checking up on you and who you are constantly checking up on then."
Tell Us About South Africa. How Much Do You Enjoy Your Country?
South Africa is a fantastic place. Here, the climate is incredible, it's never too cold, and it's never too hot. The only thing bothering me is Hay fever and stuff like that. The gender-based violence there is a considerable movement currently going on where the women are finally getting the platform. We are hoping that the government will start taking the issues seriously. But I do enjoy my country, despite its challenges.
South Africa has been very supportive of my work, and has helped me grow a lot. I have been very active within the safety and security department and the educational department in Johannesburg. My first book, 'Smelly Cats,' was approved by the primary education department as practical learning for children.
From Where Did The Title 'Smelly Cats' Come? Is The Story inspired by Any of Your Siblings?
My three recent books are the only ones where I had titles before writing the story with my writing process. When I started writing this story, I didn't have the title. I formulated everything, and at the end of it, I came up with the name cats because it's a fun thing for children to understand the concept. The young me thought that Smelly Cats was a perfect name. I don't believe that I would ever change the name if I had the opportunity to do so.
"The story of Smelly Cats is inspired by my siblings, there is a lot of fighting between family members in that. We are living in such a big family, so we people are constantly fighting and making up. So, I got it from these real-life experiences and turned it into a book."
How Many Books Have You Written So Far?
I have written five books, which have been published. These five books are – 'Smelly Cats,' 'Bobbing The Snake,' 'Smelly Cats On The Vacation,' which is a sequel to Smelly Cats, 'Tim's Answer,' and 'Where is 10.' I am currently working on two other books, and I think I should work on the next part of Smelly Cats.
You May also like: One of The Youngest Inventors of The World | Adeeb Alblooshi
If You Do Write About Smelly Cats Going to India, What Would You Like Mention About India?
I would mention India's food because while we were staying in India, we did taste various things. We were offered items in the hotel, which made us feel very welcome, and it was terrific. There are still so many things that I have to try, so I look forward to the next time I come to India.
What All Does Stacey Fru Foundation Do?
Stacey Fru Foundation is 4-years-old and is based on safety, security, and education for young children in underprivileged areas. We run various outreach programs such as the African for the child campaign. We encourage people to donate books written by African authors to inspire African reading culture within these children. The foundation also does the safety and security campaign for the children by a child. This campaign is aimed to educate children on the various dangers of safety and security. We also run the African Children of The Year Awards to empower the children who are doing great in their community.
You can follow me on social media, or you can go to our website, which is www.staceyfrufoundation.org.in. That is how you can find more about the foundation and maybe partner up or join the foundation work.
Is the South African Population Supportive to Your Foundation?
When it comes to foundation, we receive some support, but it would be great to receive more support from the primary education department. We can collaborate with the education department to do more outreach programs. It would be nice if we get some active donations from people around the community.
"In the next few years, my vision for the foundation is to expand its outreach. I don't want to only focus on my small community. I want to focus on other countries in Africa, such as Zimbabwe, Cameroon, etc.
How Are You Balancing Your Studies?
It's been challenging to adjust the studies along with writing. I never knew that school could be so hectic. We recently started going back to school on the 2nd of September. I was used to waking up a few minutes before my online class and then rush for it. But now, I have to wake up early to do all the things. A lot of it is draining me out, and I am exhausted these days. I have had little or no time for writing these days because I do have after school activities.
Has The Covid had Any Impact on Your Education?
Yes, I think Covid has had a lot of impacts on our education and our lives. At School, we have to follow social distancing, and hence we don't have the same connection with our classmates and our teachers. We are put into smaller classes and are now split up. Although we are back physically at school, a lot of it is still online.
"We might be back at school, but the same feeling and warmth are just not there."
How Do You Feel About Your Achievements?
In March 2019, I got awarded by the president of Egypt under the World Youth Forum. It was the time when I first got out of the country. That was a fantastic experience, because I had to travel to Egypt. Later in September 2019, I traveled to Ghana to receive an Award under British Ambassadorship in Ghana. All this feels awesome.
How Was Your Experience With GCP Awards?
It was a too new experience for me. When I went to the GCP Awards, I saw so many children like me succeeding in their fields. It made me happy. Also, it made me realize that I am not the only one who is doing something for the community. Many children care as much as I do, and it seems that all of them will have a bright future.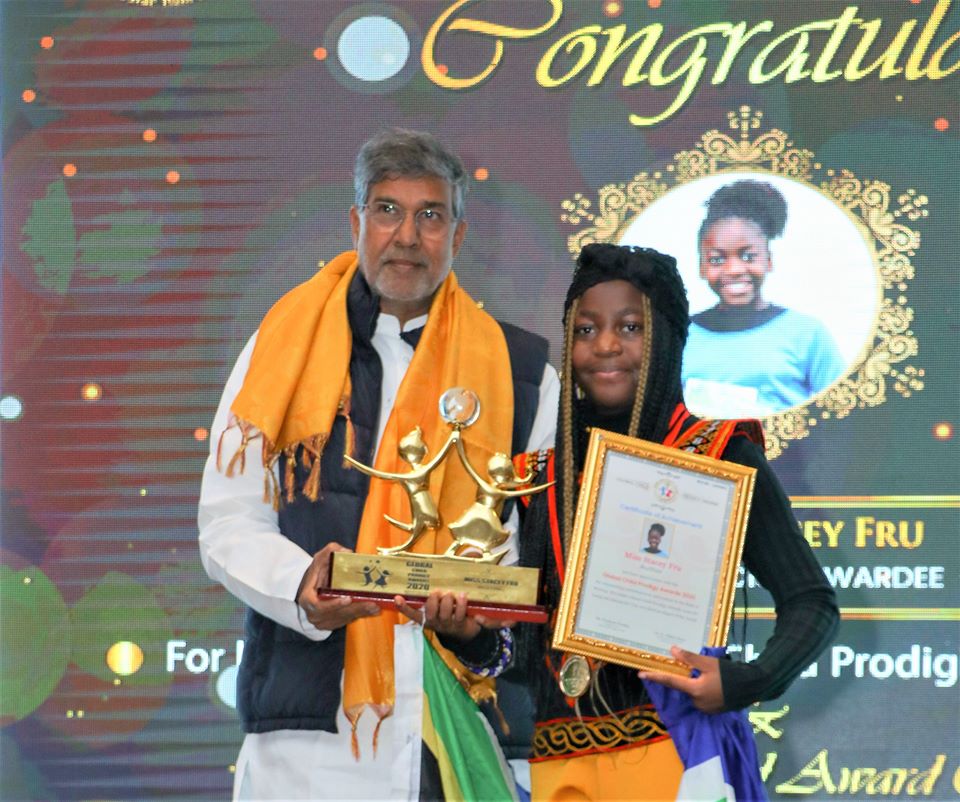 "The Global Chlid Prodigy Award Ceremony is absolutely empowering. I felt very empowered when I was in the space." – Stacey Fru
At the end of the interview, Mr. Kavin announced to donate 1000 masks developed under one of his startups to the Stacey Fru Foundation. These masks are anti-pollution, anti-bacterial, and anti-viral and are the first combination of India's nature. Stacey and her mother thanked Mr. Kavin for his support.
It is beautiful to know that you are well accomplished at this age, Stacey. You are blessed with a beautiful family. The world should get to know about you. Thank you for your time.
The Global Child Prodigy Awards is the first and only organization globally to recognize talents from various countries and backgrounds. The list includes children with extreme competency in their field of interest, such as painting, modeling, writing, entrepreneurship, martial art, music, social work, etc.
If you know someone close to you who deserves to be on the top 100 Child Prodigies list, make sure to click here.