Aliqqa Noverry, the 11-year-old skater, recently had an exclusive interview with Global Child Prodigy under Prodigy Talks. The renowned Entrepreneur, Educationalist, and Humanitarian, Mr. Kavin Kumar Kandasamy, hosted the talk. He is also the Managing Director of Mangalam Educational Institutions. Mr. Kavin's institutions serve more than 7000 students every year.
Join us as we take you through the excerpts from Aliqqa Noverry's interview.
Aliqqa, Tell us a little bit about yourself.
Hello everyone, I am from Jakarta, Indonesia, but I am currently at my new home in Tokyo, Japan. I am a skateboarder, and I am 11 years old. I am studying in a 6th-grade elementary school.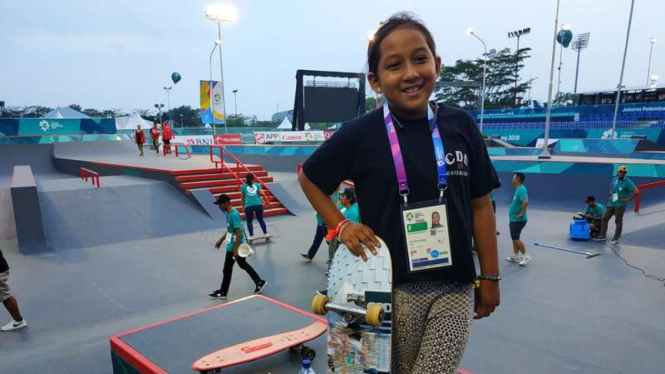 How is it for you to move from Jakarta to Tokyo?
The environment is very different. Of course, there is a little bit of a language barrier here. I guess I like it because the weather is charming and it is very safe here. I can go anywhere by myself, with no worries.
When did you start skating?
I think precisely a month before I turned seven years old, about four years exactly back in Jakarta. On my seventh birthday, my grandparents bought me a skateboard. After that, my father brought me to a skate park, and then he insisted on me joining a skate school. I just went with that to skate school, and it has been there to help me in my journey until right now, and without them, I probably wouldn't be here today.
Tell us a little about your family.
I have an elder sister who is six years older than me. We are very close to each other. I can't speak to anybody here, but the only people I have by my side always are my family members.
How is the experience of competing on the world stage?
At first, I was very nervous, but I forgot about my worries when it came to the time for me to compete because it was just entertaining. Everybody there was very kind to me. I met new friends and new people. The competition was enjoyable. It was a little intimidating because everybody was so good there, but I still had fun.
Can You Tell The Audience What You Really Do?
In a 45 second run in each competition, there are few different categories. There are categories based on age, based on gender, and the open category. In each category, the skater gets 45 seconds to do any trick they want, and people with the best tricks win the competition.
Aliqqa Noverry Is there any signature trick that you have?
Yes, I have a signature trick that is rarely done by people. It is called Varial flip. It's my favorite trick, and it is probably the hardest.
Why Do People Say That You Are All About Speed?
Maybe because there are two types of tricks; Transition tricks & Street tricks. The speed thing is when I need to do my transition tricks in a quarter; I do it fast. A quarter is like a wall that is bent a bit, and you need to do tricks on that quarter, and you need to do it with speed.
Is there anybody you look up to as a Skater?
Yes, there is one female skater from Japan. I really look up to her because she was actually one of the first skaters that I saw. She is just 12-years-old and is really good at this.
Who Is Tough On You At The Time Of Competition?
My mom is tougher on me than my coach. But she is also very supportive. I always go skating with my mom.
How Did You Get In The Asian Games 2018?
I had a friend who told my mother that the selection process for athletes is going to be held for the Asian games. My mother said to me about it, and I really wanted to do it. At the time of selection, I was the youngest there. When I competed there, I just wanted to show everyone that I was strong enough. I went forward normally. Then I was waiting for scores, and I was really anxious. When I got to know that I got selected, I was very shocked.
How Do You Balance Your School Life & Skating?
It's actually tough to manage both together. I think from 12 to 6 we have the time to eat and do whatever you want to. That's the time when I do my homework and my studies. But after that, it's all practice. I would say that my school is very supportive.
What Are Your Future Goals?
I guess that in a few years I want to be like the Japanese Skaters because they are very good. Now, as I am living in their country, I hope that I can learn something from them.
How Do You Feel To Be A Global Child Prodigy Awardee?
I was of course very happy, and I was also very surprised when I knew that I was chosen. It was a very big honor. I am really thankful for the appreciation.
Is there anything you would like to say to children out there who may not have many opportunities?
I think I really want everybody to know just be yourself and do what you want to do. Don't let anybody force you to do something that you don't want to do. Believe in yourself because if you really believe in yourself, nothing is impossible. You can do anything you want. What skateboarding has taught me is when I fall, I need to get back up again. Until I really get through my goals and my dreams come true. Never give up on what you love and just keep going no matter how hard it is; you will get there someday.
Thank You, Aliqqa! We wish you all the best for your future.
If you know someone close to you who deserves to be on the top 100 Child Prodigies list, make sure to click here.
Also Read: Indonesia's Youngest Skateboarder To Participate In Asian Games 2018 – Aliqqa Noverry
Content Writer at GCPA | Three Years of Experience in Content Writing along with SEO skills
Feel free to contact me at Team@gcpawards.com