When most children don't know how to pronounce alphabets, Akash Vukoti competed in the spelling bee championship. Akash is an 11-year-old spelling prodigy from Texas, US. He started reading at a remarkable age and completed his spelling bee competition at the age of just two years.
After that, he was admitted to the high IQ society, Mensa, when he was 3-years-old. At the age of 6 years, he won the San Angelo Area Spelling Bee Championship. Also, he became the youngest boy ever to complete the Scripps Spelling Bee.
In an exclusive interview with Global Child Prodigy, Akash talks about his views on Homeschooling. Keep reading the article for further information!
Akash Vukoti Homeschooling or Private Institutions
Akash says that he is homeschooled, and he loves it. It gives him the flexibility to adjust his schedule, which is not always possible in regular schooling. Akash also has a YouTube channel that he needs to manage and his spelling thing and studies. The young genius is able to work all these things together only because he is homeschooled.
Vukoti needs to do his homework, but he can do it anytime according to his convenience. He also told us that his school follows the curriculum that Texas state has provided, so he doesn't feel that he lacks in something. So, according to Akash Vukoti, Homeschooling is a better option.
Prominence – Akash Vukoti
Vukoti was featured on several popular TV shows, such as Little Big Shots and Steve Harvey's talk show. He also appeared on the Harry show as a guest in 2017. In September 2018, Akash was one among the celebrities who were going to compete in Dancing with the Stars: Juniors. Moreover, he is also the winner of a global award. He also runs a famous YouTube channel, which has more than 225K subscribers.
Global Child Prodigy 2020 Awardee
Akash Vukoti received the Global Child Prodigy Award in January 2020 for his exceptional talent. The young genius was also among the TOP 100 Child Prodigies of the world.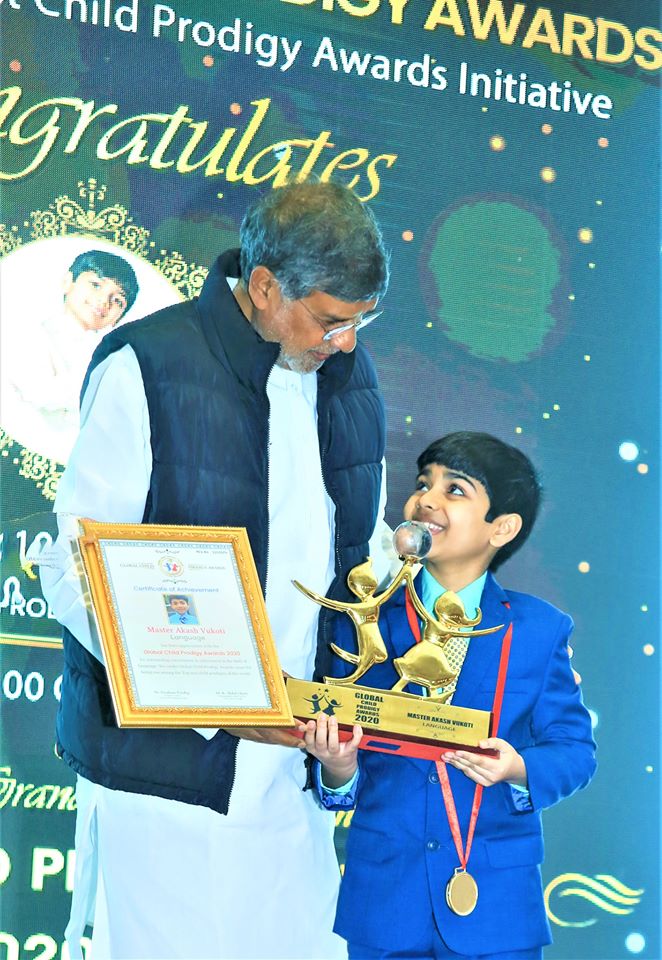 Global Child Prodigy is the only organization in the world that recognizes young talents from all around the world. The GCP awards list includes children having extreme competency in their field of interest. If you know any such prodigies who have exceptional talent, make sure to register them by clicking here.
Also Read : Tips On Learning Big Words By Spelling Bee Champion – Akash Vukoti
Graphic Designer at GCPA | Three Years of Experience in Graphic & Product/Industrial Design
Feel free to contact me at Team@gcpawards.com