Reading books, novels, going through poems, and coming up with those emotions hidden in them makes the mood relaxing. We have been through several stories and appreciated them. But we all are aware that writing a book is not an easy job, especially when it reaches many people at a time. Here we have Aarit Gupta, who, at the age of 14 years, became the author of a book titled The Flames of Beginning. This book of him is a collection of 10 short stories that displayed the atrocities of life.
Moreover, he prefers to write about the genre of crime thriller or suspense thriller. At a very young age, he showed a passion for fiction writing. Besides writing, he is an excellent orator and a tennis player.
Why Thriller Stories?
In an interview with Global Child Prodigy Awards, he said that he started with Hardy boys when he was about 11 or 12 years old. He got to know some of those authors who were of the thriller genre. And he likes that how you have to sit back and enjoy the thrill. Aarit said that it is fascinating to wait for the end to know about the suspense and what will happen the next moment. This interest and enjoyment inspired him to write crime thrillers. He likes the excitement which the thriller stories make up in one's mind.
Is his writing real or imaginary?
Aarit Gupta said that the poem which he writes are based on his feelings, concepts, and what he thinks about the topic. His poems are dedicated to the environment. The stories which he writes are of his imagination about how a killer is caught and how do you create suspense and thrill in the audience. He stays up at night to think about how the new stories could be formed, which would be more thrilling and full of suspense.
Aarit's Parents Encourage Him
It is always his parents to whom he explains and read the story. They encourage Aarit a lot for writing. Every story which Aarit wrote till now is appreciated and encouraged by his parents. And, so it also inspires him to write more and more. He also welcomes the criticism made, and therefore now he is looking forward to his second novel.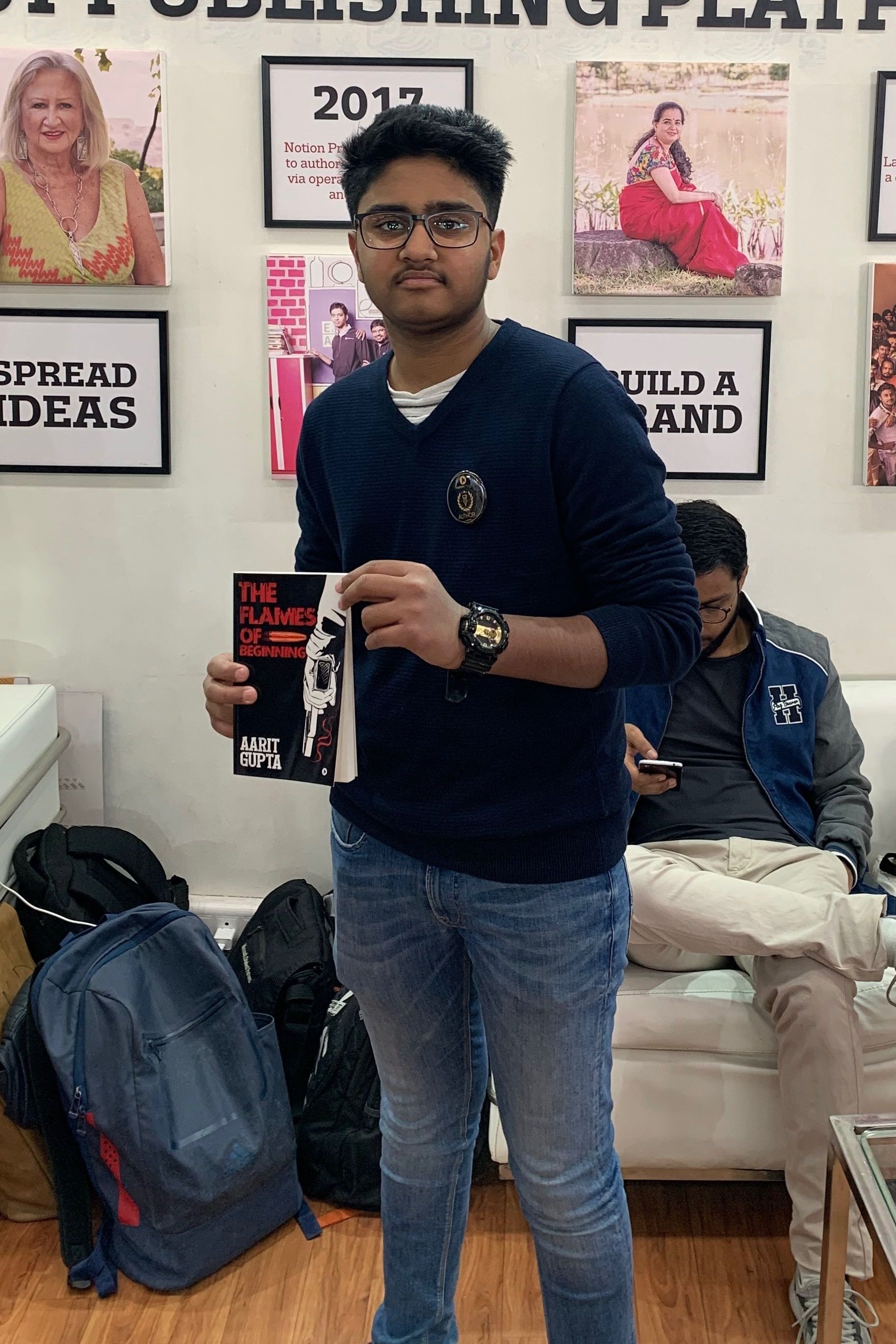 Surprisingly, his extracurricular activities have never come in the way of his academics, and he consistently tops his class. He is greatly influenced by Chetan Bhagat, Ruskin Bond, and Ronald Dahl and believes that studies aren't everything.
Moreover, earlier in 2020, he was awarded the Global Child Prodigy Award for his tremendous talent and work. Hence, he was even listed under the top 100 prodigies of the world. He has a very noble dream- To provide free books to children of all marginalized sectors of society, free of cost.
ALSO READ: [Video] Know about Ayan Gogoi, Youngest Author of India, in just 3 Minutes
Creative Content Writer at GCPA | Two Years of Experience in Content Writing Feel free to contact me at Team@gcpawards.com